We Care!
We are a community dedicated to removing the stigma associated with mental illness. We aim to educate locally and encourage you to join us in spreading the word in your community, that mental illness is a treatable brain disorder by promoting awareness and advocacy.
We're a caring
community that embraces the diversity of its residents and their contribution to a greater common good, share this with your neighbors, family & friends and let's put an end to the stigma.


Join us on Facebook and share the page with someone that you love.
MAINTAIN YOUR MENTAL HEALTH!
How do you maintain your mental health?
How do you manage the challenges of everyday life without becoming overwhelmed, over-worked and over stressed?
We all have complicated lives that involve our families, school, work and the dog but we have to find ways to maintain a balanced life. We have to find ways to decompress and stay refreshed and on top of our lives, so that the challenges of life don't take us under.
Start thinking about ways you can express yourself and maintain mental health so that you don't burn out.
Here are 10 tips that might help you reframe your life. Maybe implementing one will give you the jolt of energy that you need.
It's back to school time and with that comes a lot of new responsibility for parents and children. This time of the year can be an exciting and anxious one. We have put together curriculum to help managing our children's excitement, especially for parents sending off their small ones to school for the very first time. Please review some of our content, there are exercises that can be used by teachers and parents from kindergarten all the way to high school. Let's have a happy and healthy stigma free school year!
What steps are you taking to destroy mental illness stigmas? Did you know that you can overcome mental illness? Take a listen to this inspiring story and see if you relate to Jeremy. Listen to Jeremy Bennett tell his story and be inspired to use your mind, to change your mind!
Click the picture to listen:
Jeremy Bennett is an acclaimed author and speaker who poured his heart into the book, "The Power of the Mind: How I Beat OCD." He tells an amazing story of overcoming mental illness as he battled Obsessive Compulsive Disorder. Jeremy tells a detailed story of his battle with OCD and depression. He walks through his journey providing a glimpse into his emotional, physical and spiritual battle with mental illness. This is an inspiring interview that takes the listener into a tragic beginning that ultimately turns into a triumphant win over OCD and depression.
Disclaimer: Always consult with your physician before exploring options outside of what your current health plan suggests.
The Stigma Hurts family would like to hear from you!
Submit your stories and experiences to us and we will share them on our forum, "The Voice." You can submit anonymously and privately without disclosing any personal information (name, location, etc.). Submit your stories here: thevoice@stigmahurts.org
Let your voice be heard throughout the community and make a difference by sharing your story and speaking your peace. We'd like to know about your experience with Mental Illness and how it may have affected you, a family member or a friend. We want to encourage everyone and empower them to live healthy lives. Let your voice be heard.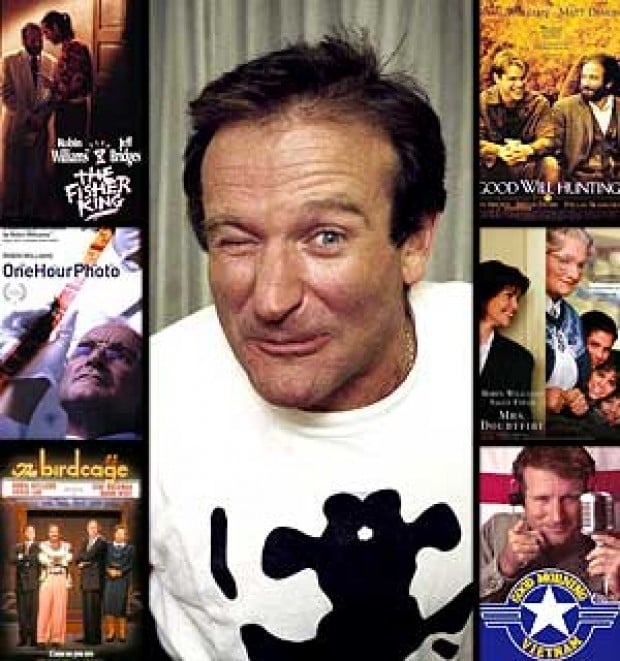 Robin Williams: 1951-2014
When we stop to think about Robin Williams, let us remember how hard he made us laugh, how far he stretched our smiles and the joy he placed in our tears. Robin Williams was a beacon of light to our world. He was a luminous life force that brought joy whenever he walked into the room. Even with all of his light and love, he dealt with his own personal Mental Health related issues. The news of Robin's death is heartbreaking to all of us and the "alleged" reason why he's gone is even more tragic. On the surface, he was the epitome of happiness, laughter and joy to us. The truth of the matter is, he was all of those things and more; a loving father, husband, friend and humanitarian. Let's celebrate Robin by continuing to spread love, joy and laughter. We can also take this opportunity to educate ourselves and investigate the disorders that fall under the "Mental Illness" umbrella. We have the power to change the stigma and redefine people's perceptions about depression (and other illnesses). Please make it your business to make someone smile today.
For more information on depression and other Mental Health related questions, click on the link below and STAY IN THE KNOW! http://www.webmd.com/depression/guide/what-is-depression
We may all know someone who lives with mental illness and I am sure that you would agree that they deserve our love and support. Let's make a commitment to our family, friends and neighbors in our community that we're going to get rid of the myths and miscommunicated messages about mental illness. We believe that stigma hurts and we want to help heal
The best way to empower people to acknowledge them and allow them to tell their stories. Take a moment to read David's story. Hopefully you will become inspired by his open mind and the brave way he tackles O.C.D. Click on the picture below to read.
One of the most powerful methods of being able to end the stigma associated to mental illness is education. Knowledge is power and with it we have an opportunity to create understanding and unity. Anosognosia is not a popular term. A lot of us may have not even heard of the term before.
Anosognosia - "lack of insight" or "lack of awareness" - is believed to be the single largest reason why individuals with schizophrenia and bipolar disorder do not take their medications. Take a moment to read this article on Anosognosia and see how we might be able to make a difference. Please click on the image below and let's stay in the know!
Thank you to NAMI for providing the following article!

Gaining Support and Fighting Stigma through Music
By Maggie Smith, NAMI Information Assistant


You can hear the notes drifting through the air, the sound rising and falling as the musicians play their instruments, following the rise and fall of the conductorís hands. It seems as effortless and natural as the rise and fall of your chest as you breathe in and out. Itís hard to believe that the music you are hearing is the result of nearly 30 individuals, ranging from age 8 to older than 70, playing about a dozen different instruments at the same time. And for some, it might be harder to believe that these individualsí lives are all impacted in some way by mental illness. In fact, the members of this orchestra live with illnesses including depression, bipolar disorder, anxiety, ADHD, posttraumatic stress disorder (PTSD), schizophrenia and addiction.

To read more of this article, click here!
THE VOICE
We are bombarded every day by constant chatter from all our favorite social media sites. But do we every really pay attention to it?
Read this month's article on The Voice and see why maybe you should!
Thank you to our readers who have submitted their stories to
The Voice
.
Supporting Change!
Article introduction by Brianna Palmer

On July 12th an article was posted on the Asbury Park Press website regarding mental illness and stigma. The article explains in detail the never ending cycle of stigma and how it prevents many people with mental illnesses from seeking treatment. Celina Gray, Director of the Governorís Council on Mental Health Stigma talked about the different aspects of mental health and stigma in an informal talk given on June 18th. She stressed the importance of realizing that a mental illness is no different than any other illness, such as cancer, and that the world needs to stop treating it as different. She also talked about how stress on children, such as bullying in high school, was having a powerful impact on their mental health. The article stresses the importance of ruling your mental health and seeking treatment no matter what. The ultimate goal of the future is to raise awareness and decrease stigma all together. This article is an important one in relation to the mental health community and reflects the goal we ourselves have. To read the full article, click here.
The Common Thread
by Tara Forney-Apgar

What do Albert Einstein, Babe Ruth, Bill Cosby and Will Smith have in common? Aside from being famous and achieving great success, they all share something else. Each one of these famous Americanís, along with many other notable people, are known to have Attention Deficit Disorder (ADD) or Attention Deficit Hyperactivity Disorder (ADHD). Itís not uncommon to categorize people or identify them by their disorders or conditions. Yet, like everyone else, people with ADD or ADHD have many, many great qualities outside of their diagnosis. Read more here.

Submissions to the Website

Do you have an article, picture, poem or story that you would like to share? Please submit it to us at mail@stigmahurts.org. Submissions will be reviewed by the committee and posted to the website. Include your contact information so we can let you know as they are posted!




Please help us out by taking a quick survey. The information you provide will be used to improve our website.

Thank you




StigmaHurts is part of the
Mental Health Awareness Committee of Ocean County, NJ
All comments and questions should be directed to mail@stigmahurts.com